Our offer
Dry Ice Cleaning - cryocleaning
Principle of dry ice cleaning
When cleaning surfaces with dry ice, the combination of kinetic energy of dry ice pellets driven by a strong flow of air and the effect of a thermal shock is used. Dry ice is a solid form of carbon dioxide (CO2).
Kinetic energy of pellets
Pellets are propelled with the air stream at high speed. As a result of the high speed and the weight of the pellets, a high impact strength is created and this acts similarly to abrasives.
Effect of the heat shock
The prompt sublimation (the change from solid to gaseous form) of CO2 pellets in contact with the surface absorbs most of the heat from a very thin upper layer of coating or pollution. Most of the heat is absorbed due to the latent heat of sublimation. This rapid transfer of the heat from the upper layer of coating to a pellet creates an extremely high temperature differential between consecutive micro-layers inside coating. A sharp temperature drop creates a high local shear stress between individual micro-layers. A resulting shear stress depends on the thermal conductivity of coating and on the coefficient of the thermal expansion as well as on the continuous increase of the temperature in the lower layer of the substrate. The high shear stress occurs in a very short time and causes micro-cracks between the individual layers. This leads to the interruption of the coating adhesion to the surface of the substrate.
Thermal kinetic effect
This combined impact of the dispersion energy and extremely rapid transfer of the heat between the pellets and the surface causes an immediate sublimation of the solid CO2 into gas. The gas expands to nearly 800 times the pellet volume within a few milliseconds after contact with the surface. This is called the mini-explosion. The "mini-explosion", during which the pellets become the gas, spreads further, and this way the particles of the coating fragmented by the heat from all substrates are removed. This occurs due to the lack of reverse energy of the pellets, which is expanding over the entire surface during the impact. Gaseous CO2 expands along the surface and its resulting "explosive front shock wave" creates an area of high pressure centered between the surface and the high temperature fragmented particles of the coating. The result is a very effective uplift, which carries the particles away from the surface.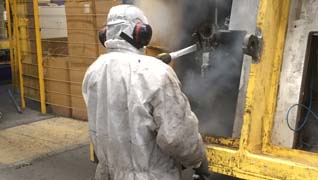 What we can clean up
Tryskání suchým ledem je možno použít k čištění zařízení v průmyslu, v zařízeních pro zpracování potravin, může být také použit pro čištění zařízení bez demontáže a bez vzniku požáru nebo úrazu elektrickým proudem, lze čistit různé předměty rozdílných složitých tvarů najednou. Tryskání suchým ledem lze také použít jako alternativu k mnoha typům čištění na bázi rozpouštědel.
Formy a nástroje pro výrobu

Údržba strojírenské výroby

Úklid a čištění výrobních strojů

Čištění strojů pro výrobu potravin

Odstranění nátěrů

Rekonstrukce a údržba

Odstranění nežádoucích graffiti

...a mnoho dalšího